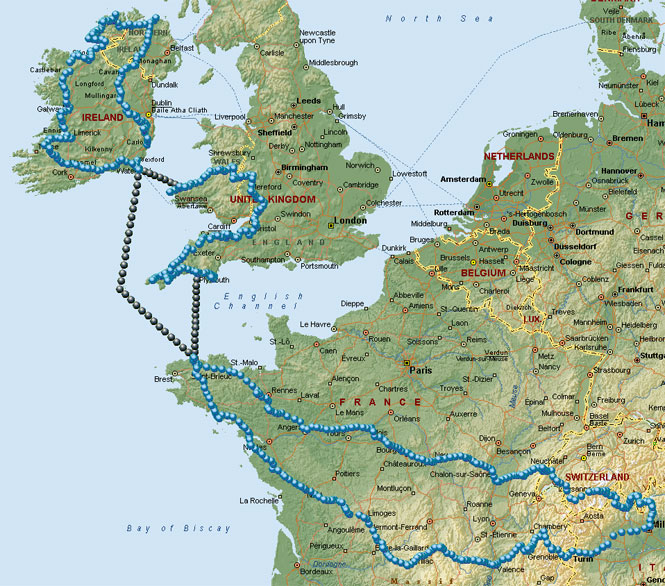 This is a ride from Italy to Brittany, ferry to England and Wales, ferry to Ireland, and then ferry back to France and Italy. To the extent that I could, each day's route was often chosen simply to avoid riding on roads that have already been ridden. But, as can be seen (below), I didn't do such a good job in France. Avoiding old roads in Wales is going to be more difficult on future trips.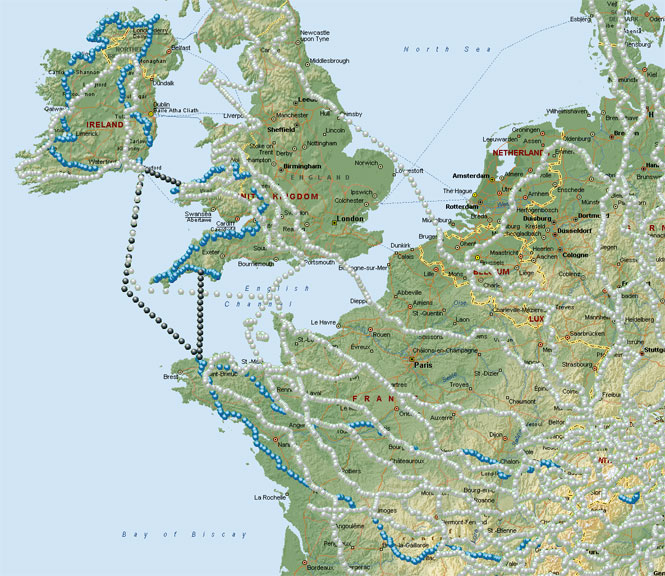 Always, my ride starts at Agostini Moto Guzzi. Without them, I wouldn't be here. I'm packed and ready to go. I'll be rolling out the front door and turning left.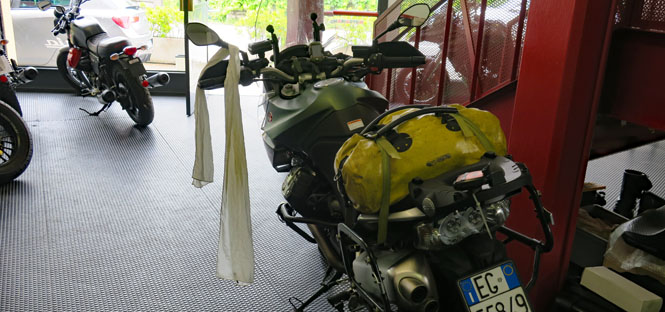 There are a number of options, but I've got to keep Ireland in front of me, so I don't have time to mess about too much in Italy. I'll be taking the long Frejus tunnel to France.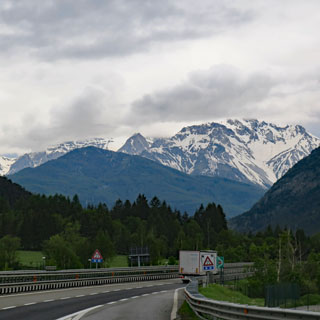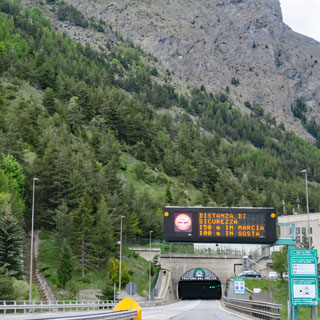 France
I had in mind turning south and riding over a series of high passes once I rode through the tunnel. This is Col du Télégraphe (a frequent stop on the Tour de France) and is just about as far as I got on this road. It's closed. Evidently, I'm still too early in the year for the less frequently used passes. Turn around, and proceed to Grenoble.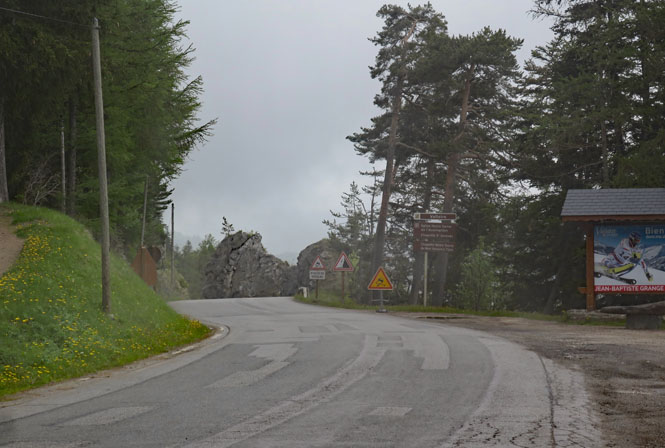 Grenoble for the night. I have never had any luck finding a hotel in or near Grenoble. My luck hasn't changed. I'd see hallways and rooms just like this on my channel ferry, but at least those rooms are on a ferry. There's nothing of the sort to recommend this. What surrounds Grenoble is gorgeous.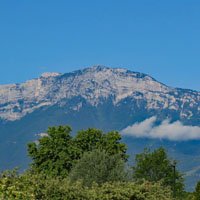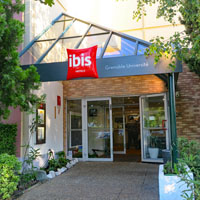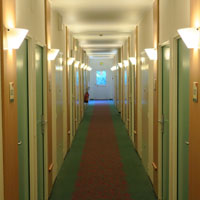 Riding out of the valley of Grenoble and into the broad, open French countryside.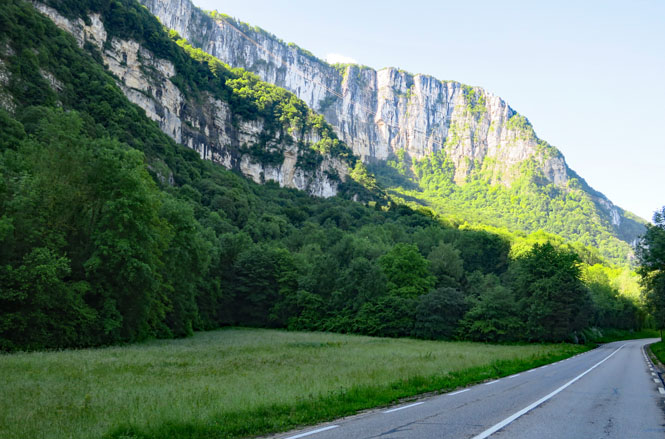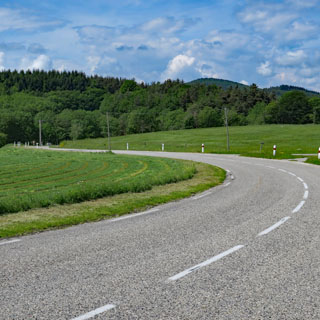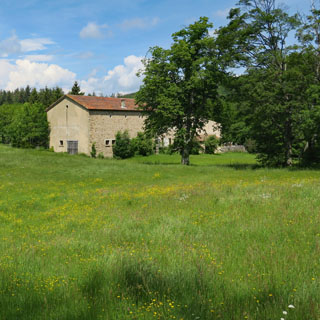 Saint-Agrève.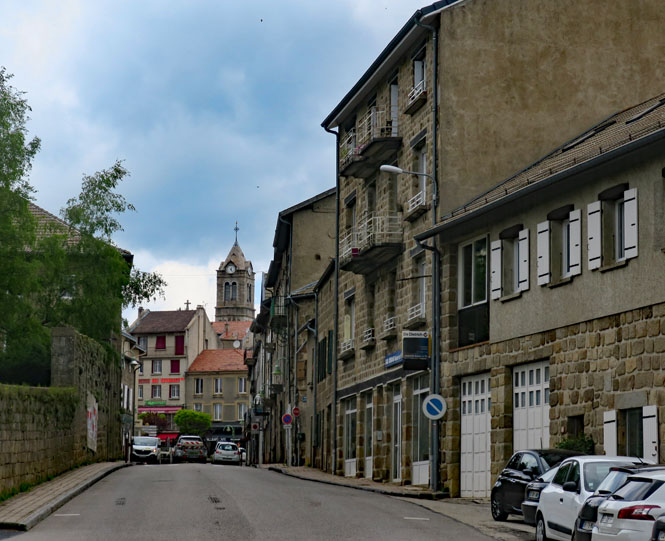 I'd have cold days and hot days, wet days and dry days. And, very wet days.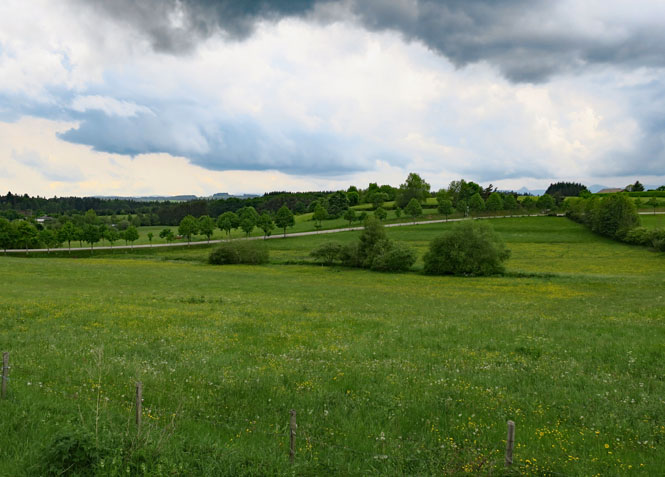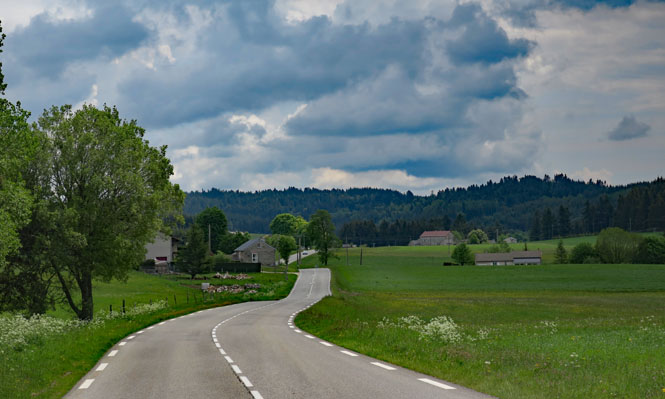 Brives-Charensac on the Loire River. I generally give the bike a quick look during every stop, and noticed that one of the driving lights was hanging by its wires (both attachment bolts being gone). It couldn't have been that way too long without dropping to the road, so I had caught it just in time. I disconnected the wires, made certain that there would be no shorts, and then zip-tied everything back to the mount. This has happened before; I'm not impressed by HELLA lights. I never use the driving lights anyway.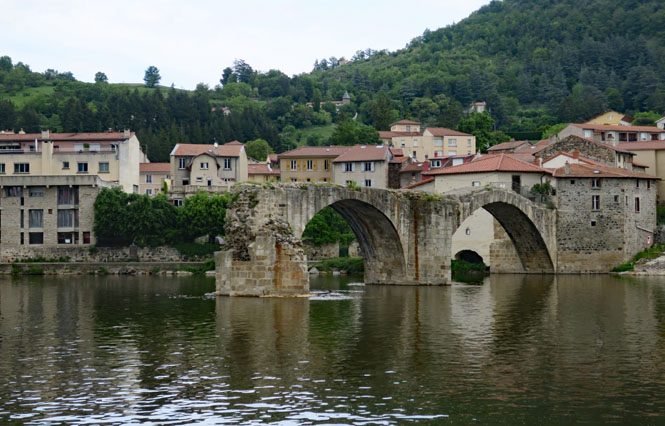 The old bridge, above (mostly gone), and the new bridge, below.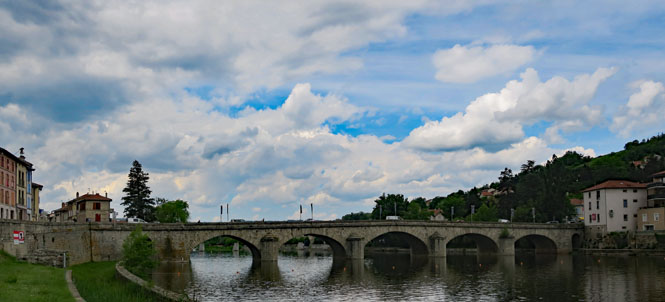 Brioude. I've spent the night in Brioude, before. While I generally prefer to always take a new road and stay at a new town, I was here and figured it was a good place to stop.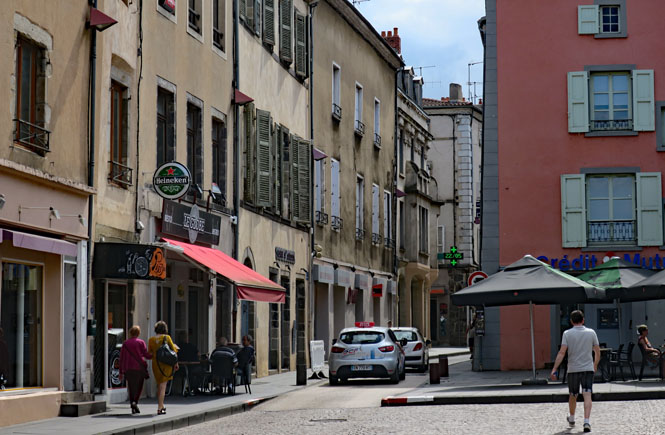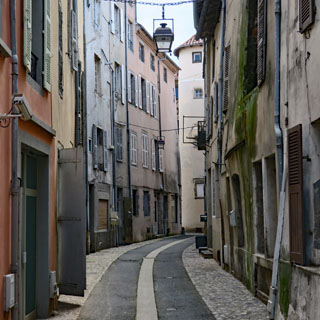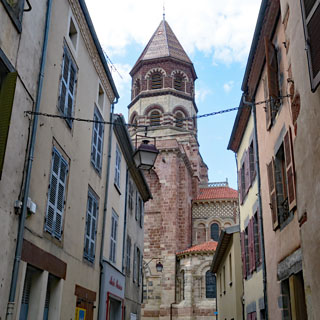 Basilica of St. Julien (1060 construction begins).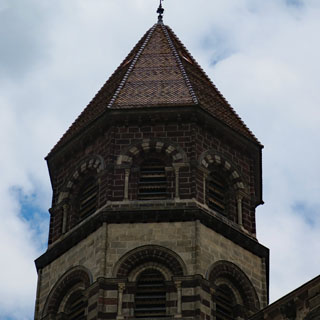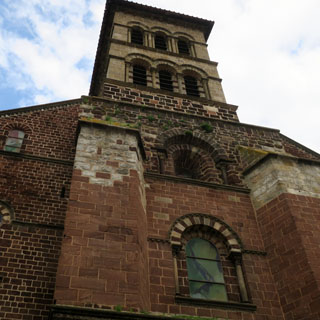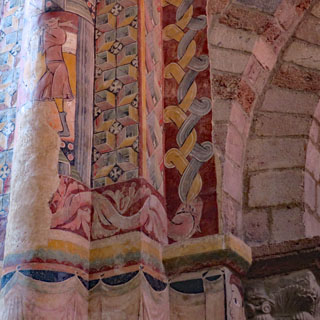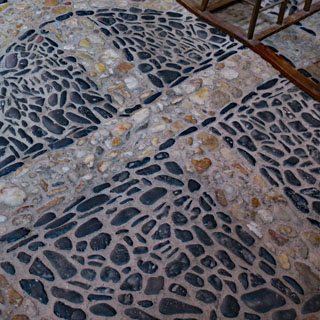 I am impressed by the frescoes in this basilica. So much color, and so much of it is anything but serious--notice the faux curtains, above.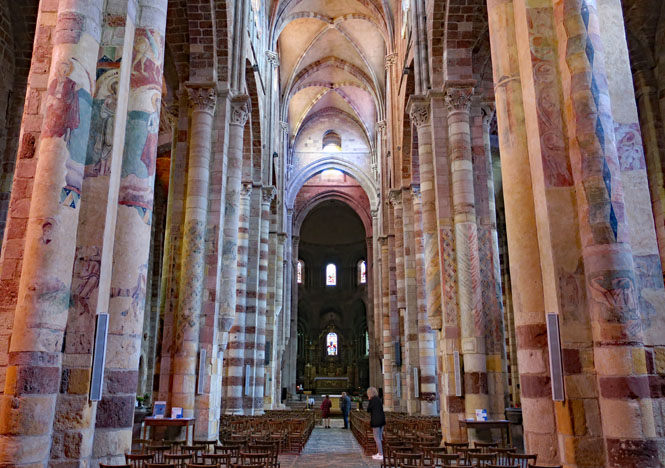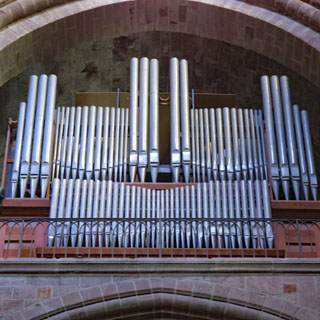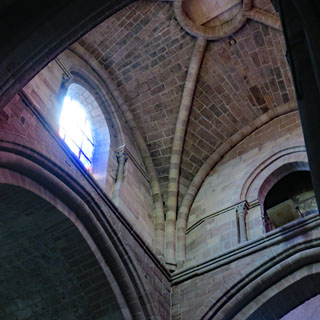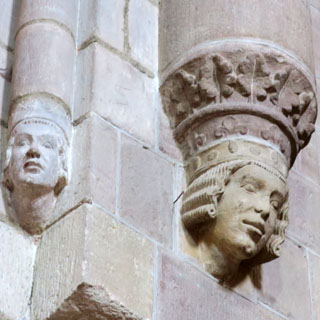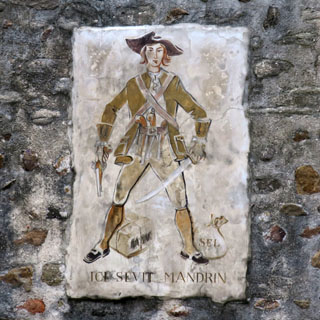 The same leaves on the wall are on the bedspread. This is one of the nicest hotels I've been to (which is a reason I stayed a second time).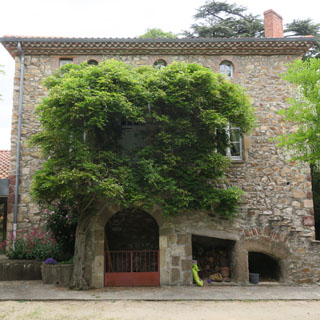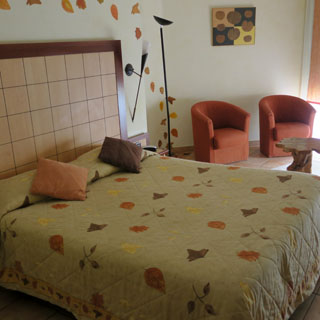 Snow? This is an unexpected ski area in western France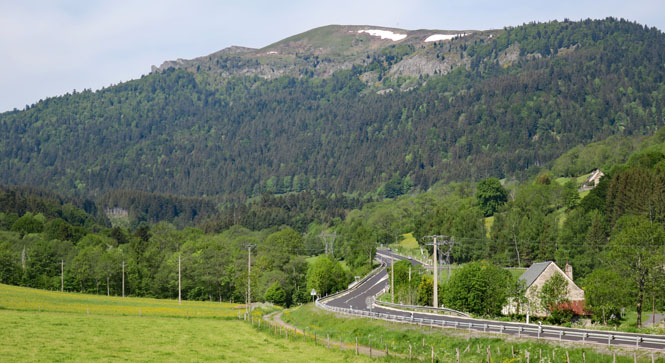 Argentat-sur-Dordogne.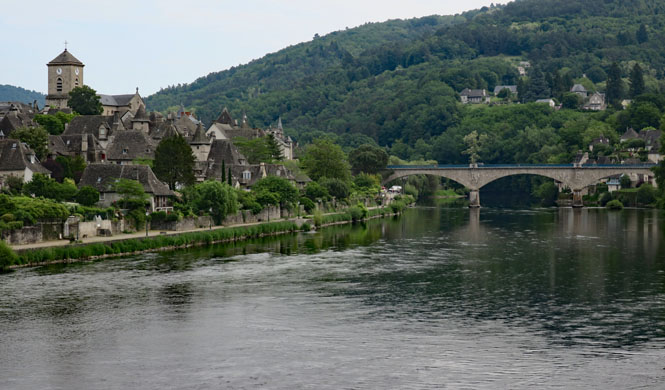 Le Viaduc de Rulle. That's not the road I'm on, but it's an impressive bit of civil engineering. There are even longer and higher viaducts in France; the point being that they're common and their highway infrastructure is superb.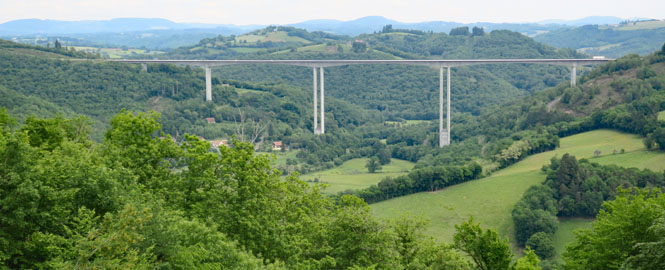 Pressac.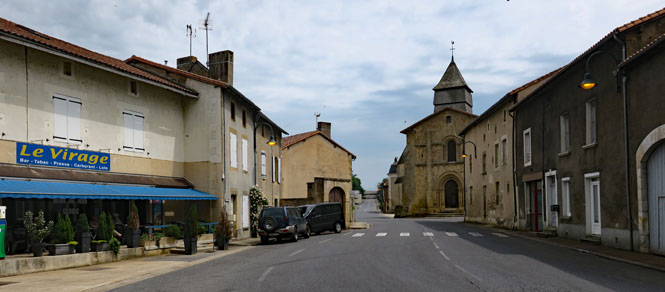 Niort. It's not unusual for the hotel desk clerk to ask if I'd prefer to have a secure place to keep my bike for the night. In this case, he only asked me "is your motorbike narrow?" I said "Yes" and was shown the back entrance to where they kept the empty (and not empty) bottles and other things that keep the hotel running smoothly. I always try to find a hotel that's in the center of a city or town, as is this one.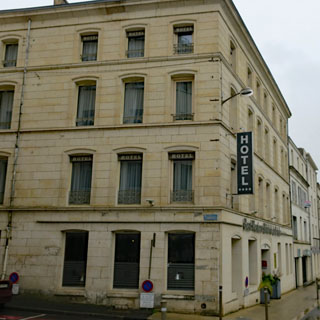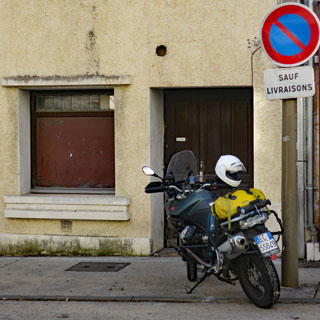 Niort has four significant churches. I was at three of them.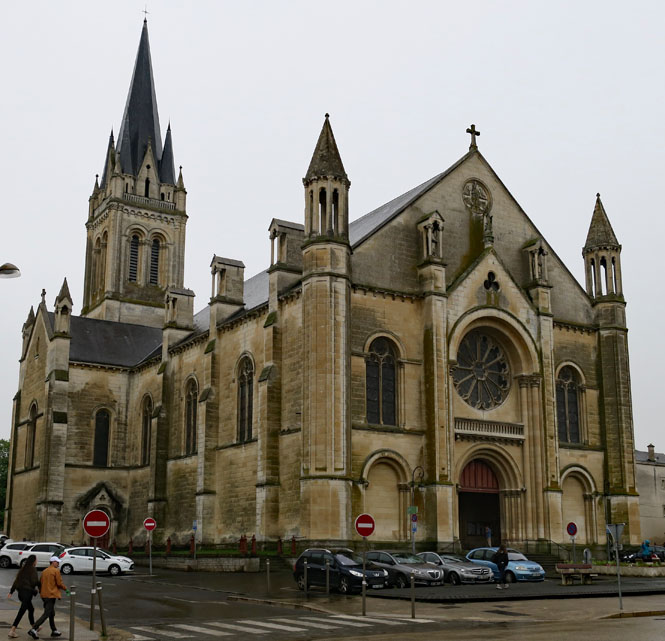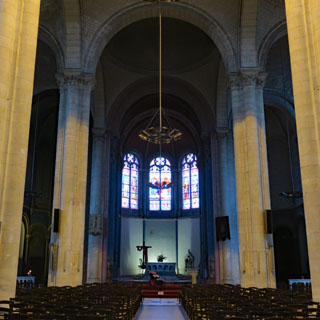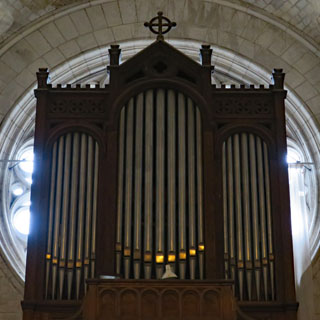 There were a few of these long dragons making their way through the pedestrian zones. I'm not putting my hand in there...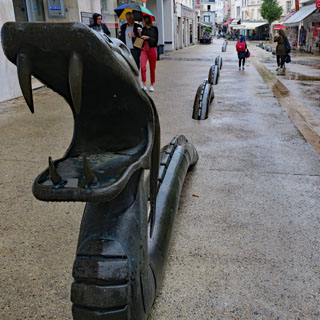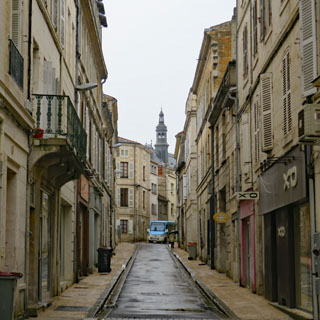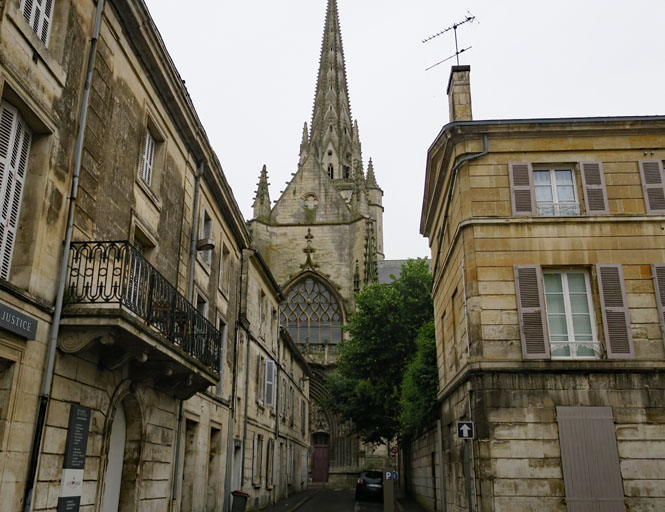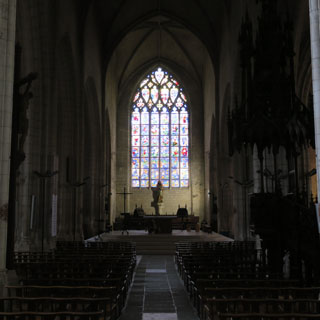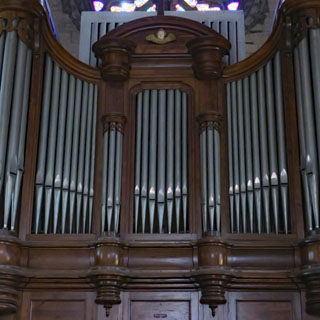 The Donjon de Niort was built by Henry II (Plantagenet) and completed by his son Richard (the Lionheart). The castle was significantly damaged during the French religious wars, but what remains is impressive.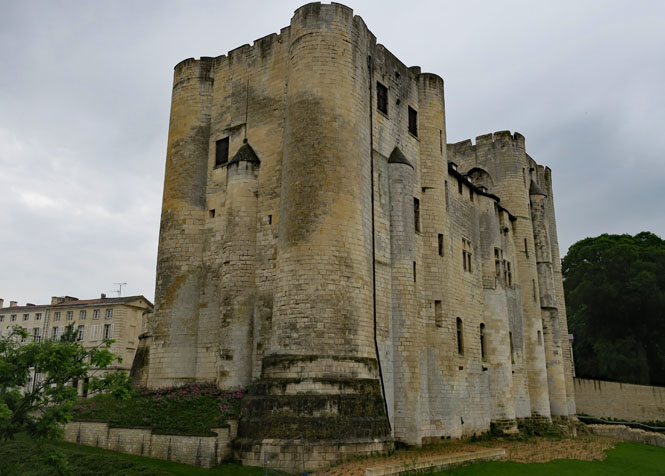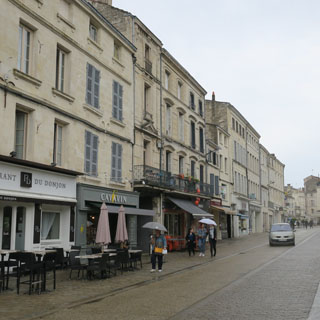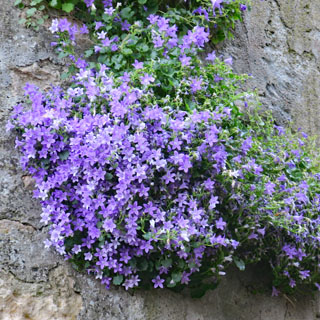 The Sèvre Niortaise River.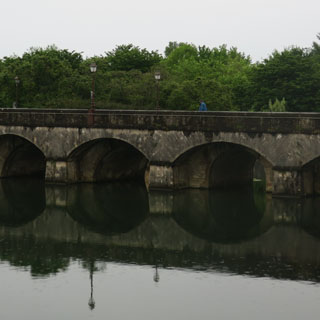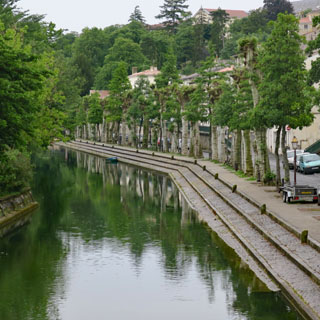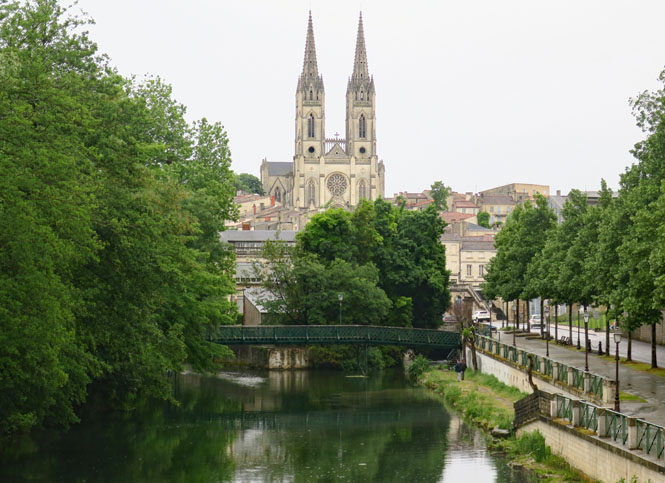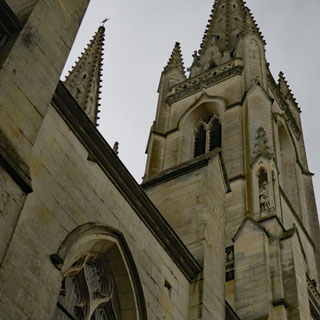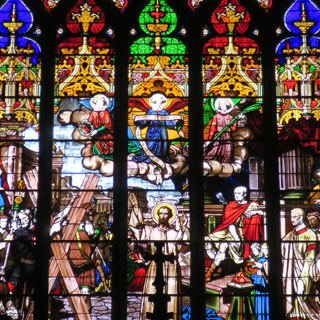 The ground floor of every building you see is a restaurant. And, this is only part of what Niort has to offer.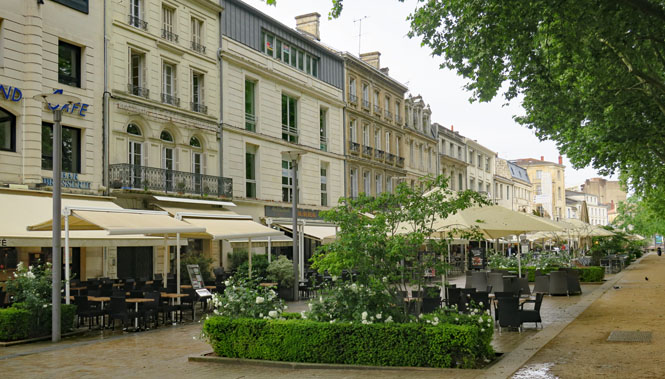 I'm not far from the town of Cognac so, naturally I had a Cognac coffee after my meal. I vote "yes" on Cognac coffee.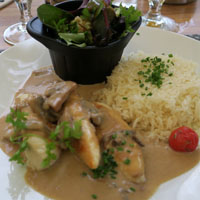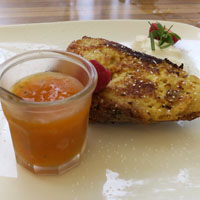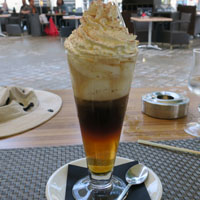 In Kansas they'd be cutting right now, but it's not yet time, here.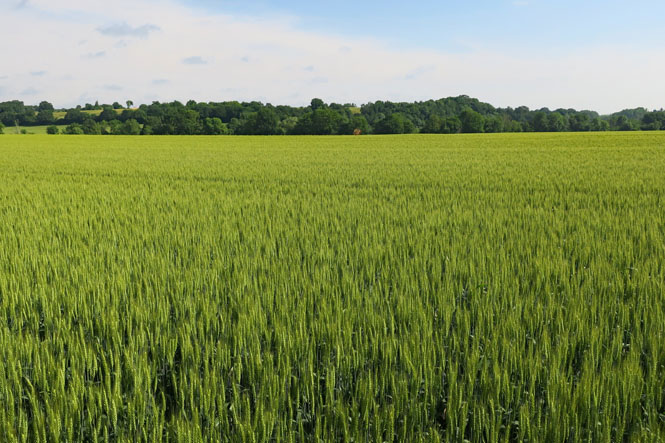 Vendée is a region of France along the coast that I had only known for being a stronghold of resistance to the French revolution and supporting the Bourbons to the end (for which they paid a heavy price). But, it was also the home of Eleanor of Acquitaine, which meant it was the site of a great deal of fighting including the religious wars that were to come later. In short, it must be difficult for students to keep track of their own history; it's complicated.
Historial de la Vendée (The Museum of the Vendée).

Artifacts going back to Roman times, and before, have been found.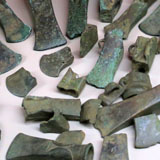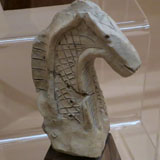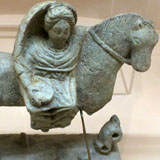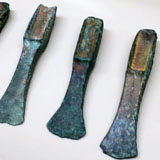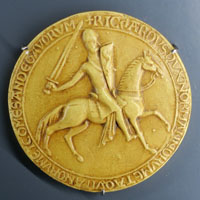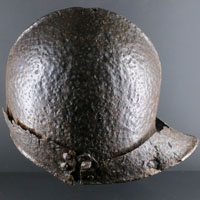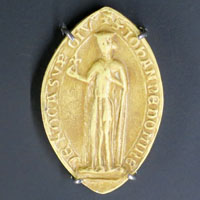 A remarkable tapestry.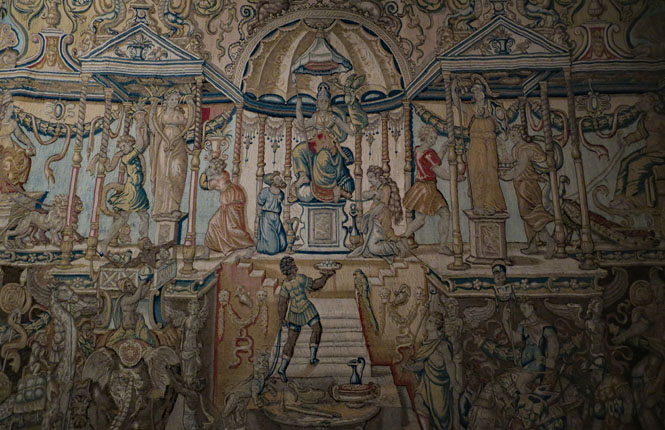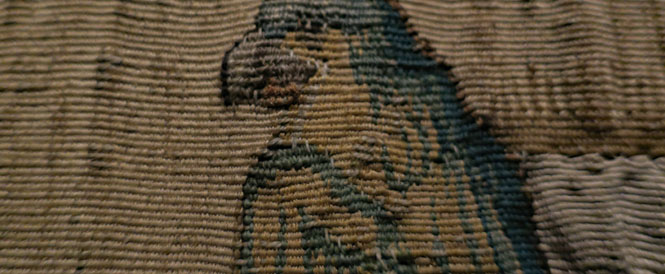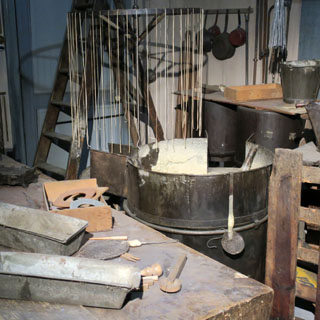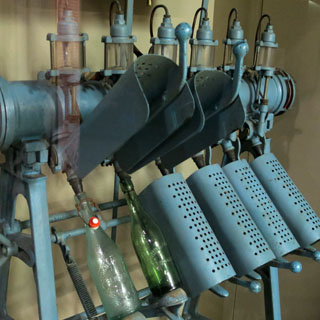 Much of the paintings are focused on the grand, but tragic characters from its past. They've had plenty of noble causes where the hero "died well." They didn't have much chance fighting the revolutionaries who brought down the monarchy, nor Napoleon, who came after those guys. This museum (and this region) isn't dressed in "liberté, égalité, fraternité" that you might see elsewhere across France.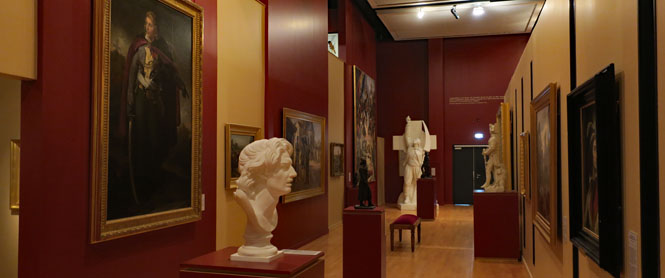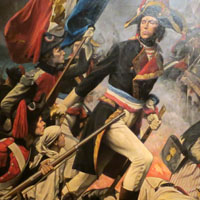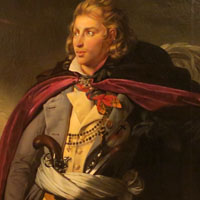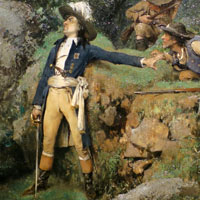 Pornic on the Atlantic.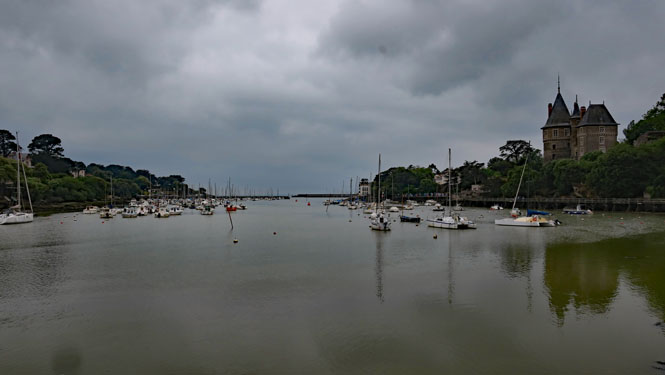 Notice that white car? That's the road I've just come through, myself. There's not much difference between a back-alley and a busy street.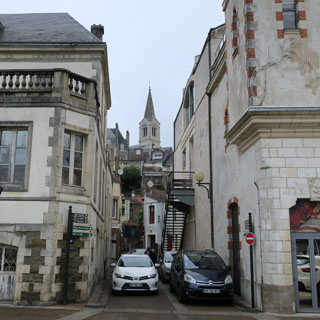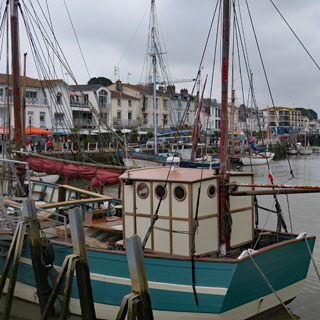 It's a good place to have a seat outside a crêperie and see what they have that looks interesting. Along with what's obvious, there are banana slices inside, as well.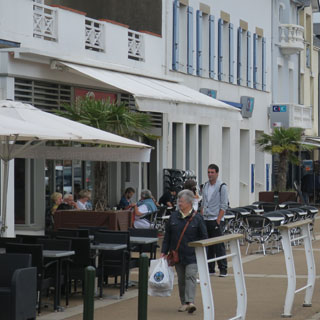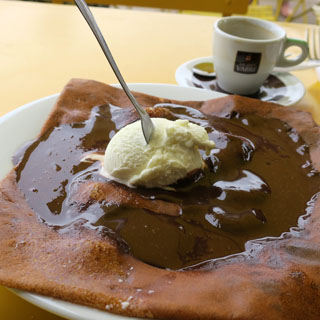 The Saint-Nazaire Bridge (completed 1975, a world record for cable-stayed bridges at that time).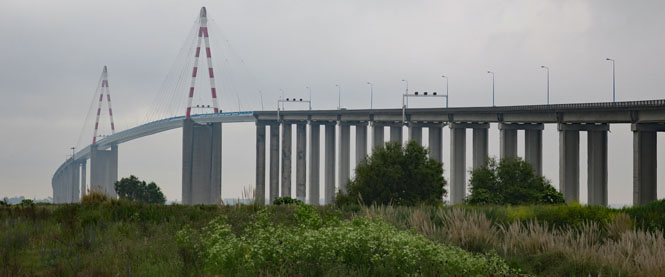 This was an important submarine base for Germany during World War 2. The pens were built to be unbreachable, and so they were. This pocket of German occupation lasted through the war (the Germans were isolated and there wasn't much point in bombing what couldn't be destroyed), and so the pens are still there.
Today, enormous cruise ships are built here.

Carnac (Karnag). Somebody started planting stones on-end around 6,500 years ago and they kept it up for another thousand years. Why? Well, why not? It's pretty amazing. Row after row--thousands of them.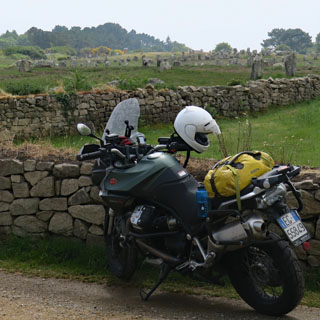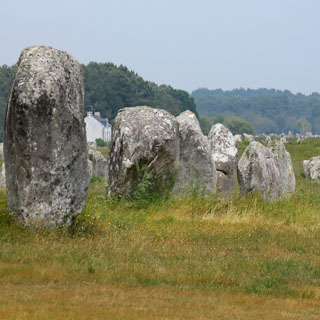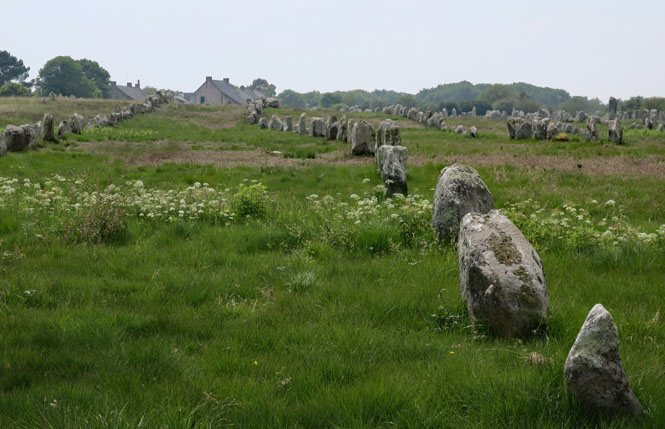 This part of Brittany is swampy and is full of shallow lakes and shallow inlets from the ocean. As a consequence, any road (or rider) that tries to follow the coast will have a tough time.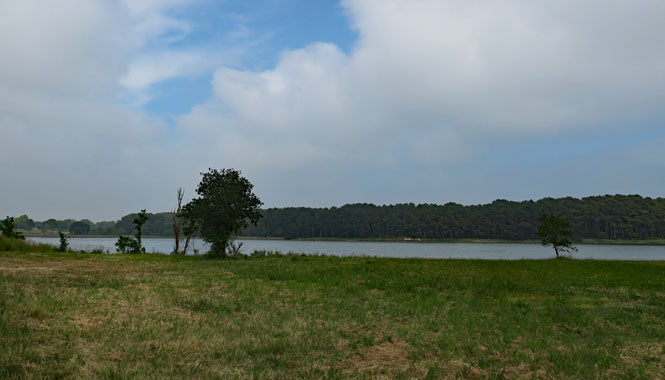 Hennebont.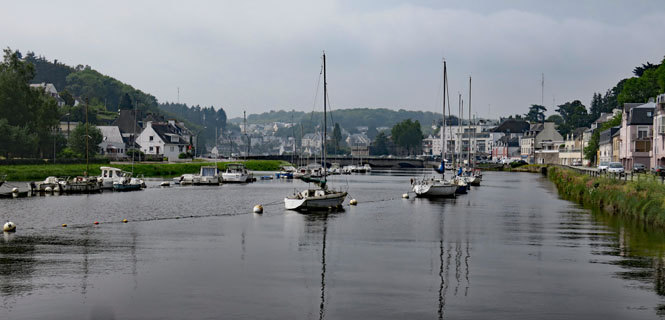 It's foggy and it's raining. I'm now riding with my face shield up and without my glasses as everything mists over immediately. And, it's cold (my electric vest is plugged in). Luckily, my vision is still adequate (at least the DMV thinks so) without glasses.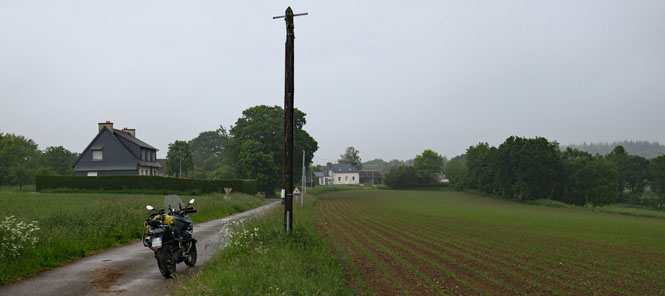 Roscoff. This was a quiet fishing village until it was decided (in 1968) to expand and deepen the port to allow ferry service between Brittany and England. There's evidently a lot of iodine in the water and this place was once considered a healthy place to be. Perhaps it still is.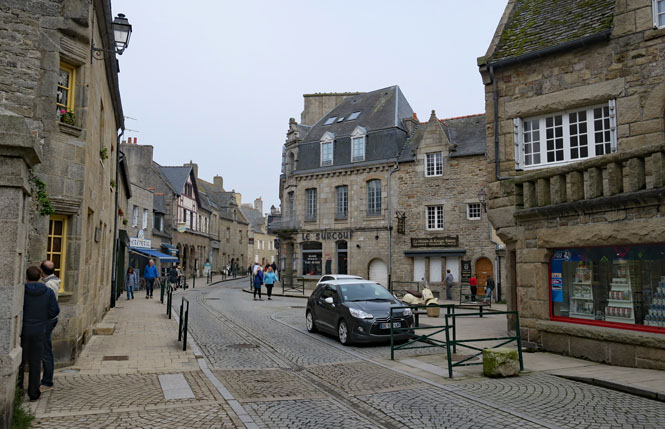 Of all the jumping-off points for a ferry to the U.K. or Ireland, this is the best. Why? It's so tidy and compact and there is none of the industrial feel that all the other ports have. This place is easy.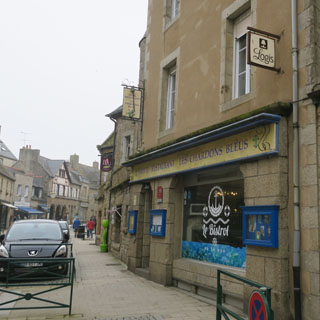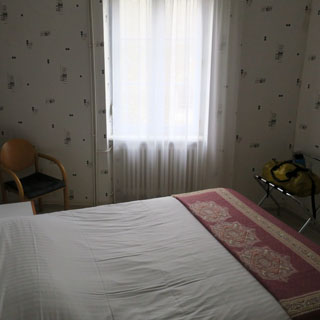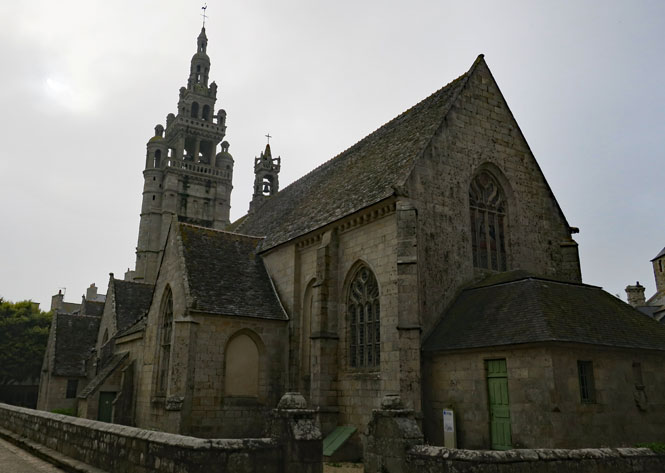 Details of ships have been carved onto the walls of the old church. Ships and fishing have always been important to Brittany.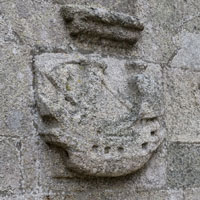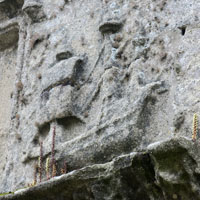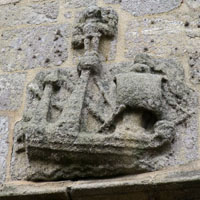 Onions hanging from a house. Onions have historically been important to Brittany and to Roscoff, but I'm not really sure what the significance of this might be.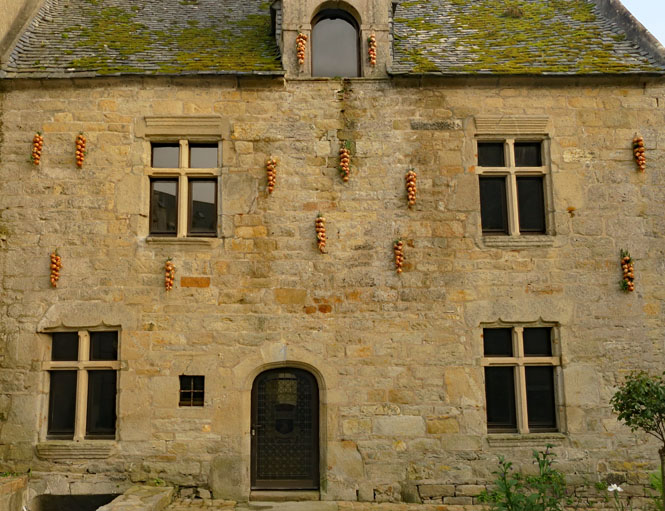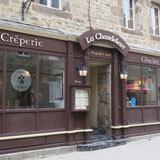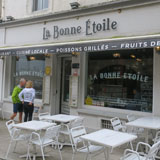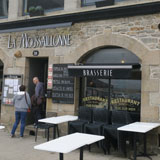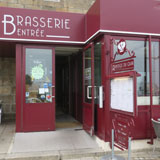 Naturally, I'd have onion soup. And fish.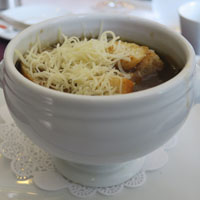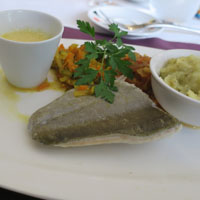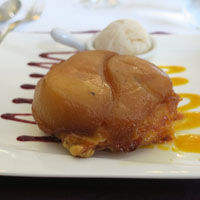 That's a pedestrian bridge out to one of the islands.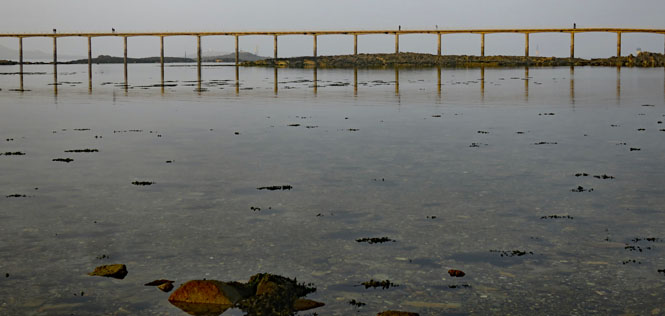 Multi-colored rocks on the beach.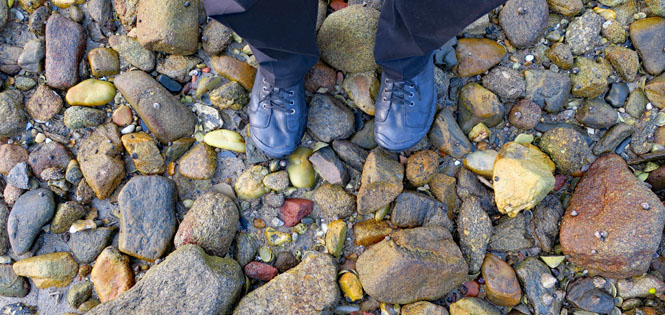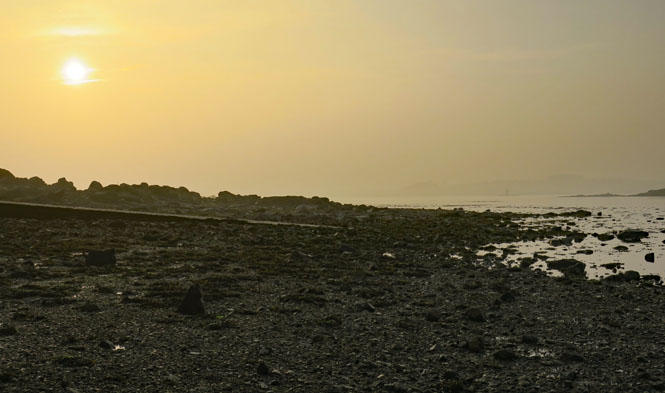 Brittany Ferries. Motorcycles load first. On this boat, the crew will strap down your bike.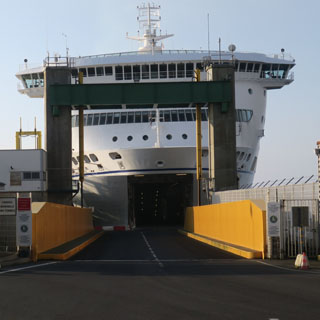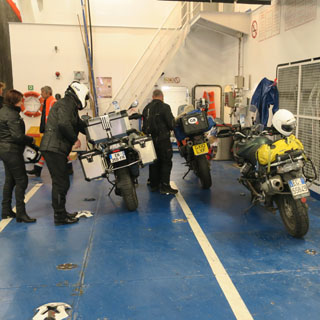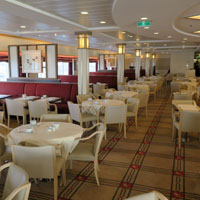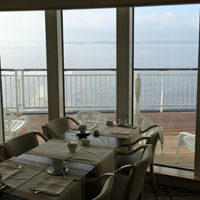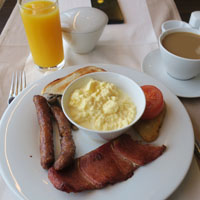 These wildlife guides are watching for whales and dolphins. They're volunteers who are supported by the ferry company to do surveys of animal activity on their routes.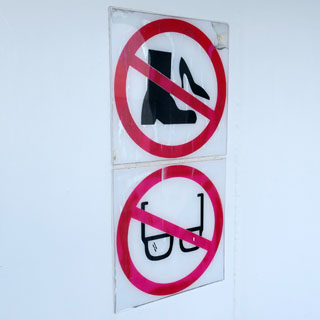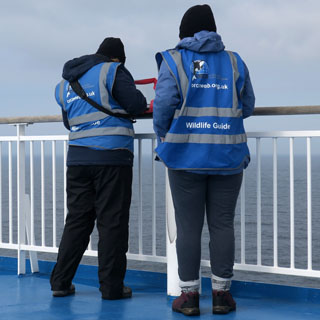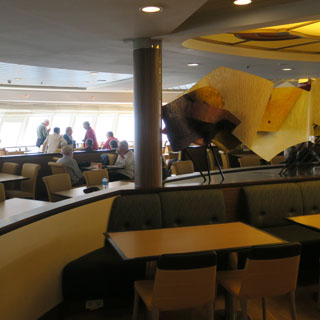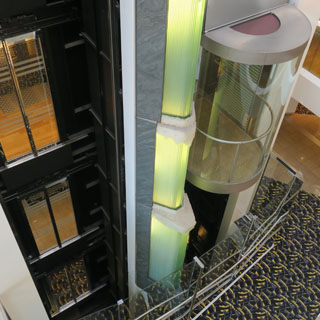 United Kingdom
Plymouth harbour.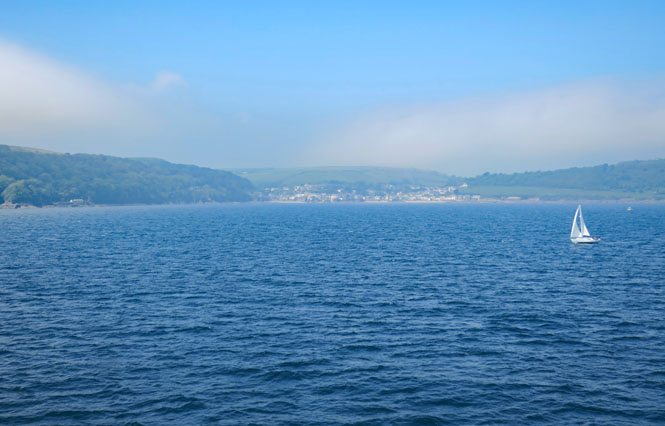 The maneuvering ability of these large ferries is amazing. The harbor isn't all that large, but we spin around and back up to the pier like it's done everyday...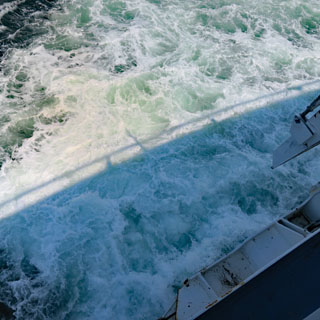 In April of 1944 the allies ran a training exercise in preparation for the D-day invasion of Normandy. The beach of Slapton Sands would serve as the stand-in for Normandy. Naturally, secrecy was as high for this exercise as it would be for the actual invasion.
It all went terribly wrong.
There were serious errors in how the exercise was prepared and how it was carried out. Nine fast German E-boats came across the invasion force and made their attack. Two ships were sunk, two others were damaged. Nearly 750 men were killed.
Because of the secrecy and because of the D-day invasion that was coming, no news was released of this tragedy off the English coast near Plymouth. It remained largely unknown for decades.
In 1984 a Sherman Tank that had been part of the cargo of one of the sunken ships was raised from the ocean floor and made part of a memorial to the Exercise Tiger dead. It was the local community that organized the work and took the leadership to create the memorial. Thank you.
My goal was to ride to the memorial on the west end of the beach and walk the beach of Slapton Sands.
One of the narrow roads to Slapton Sands (my first day's riding of staying left).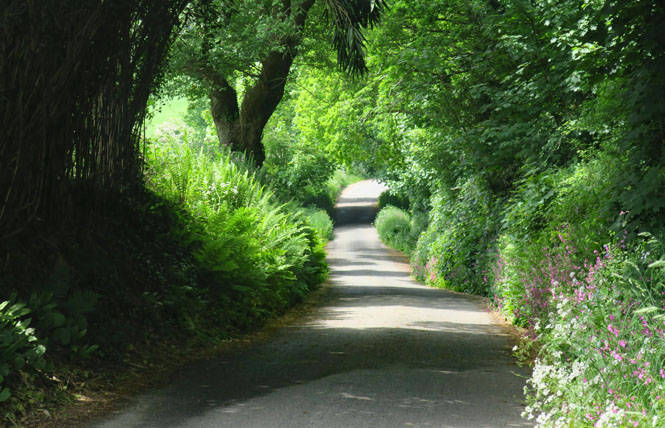 I figured that aiming for the village of Slapton Sands would be as good a way to the beach as any. That wasn't the case. It turns out a German campervan had managed to get stuck and could neither move forward nor backwards. Perhaps they're still there...
I turned around and made my way to the east end of the beach, only to find that the road along the beach was closed due to the ocean claiming the road for itself. I wouldn't be going to the memorial after all.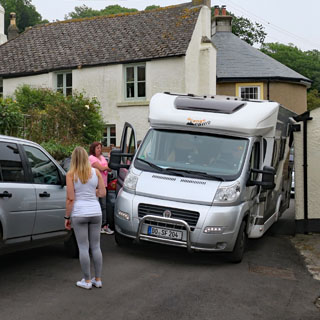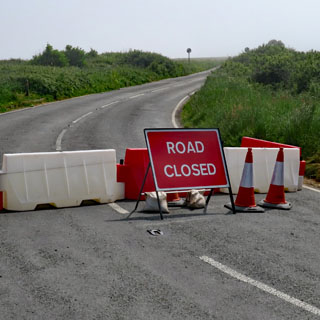 But, I was able to walk on the beach. The idea was for the landing craft to hit this beach just as they eventually would be doing at Normandy. "Defenders" were in place, and this was to be a major and significant exercise that would fully show how the operation would be conducted. Of course, none of that happened; it was a total mess.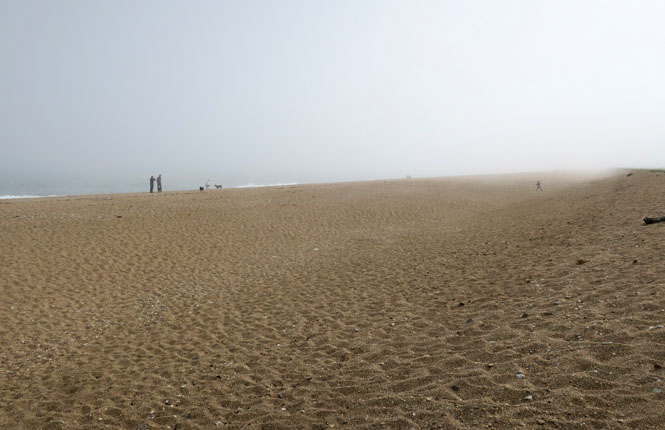 Perhaps it was the case that all the communication and planning errors of the exercise exposed problems that might have occurred during the actual event. Perhaps D-day was a success only because the lessons learned from Exercise Tiger and the changes made were enough to tilt the balance in favor of the Allies. Perhaps.
The low clouds were only over the beach. Just a mile inland, the sky was mostly blue.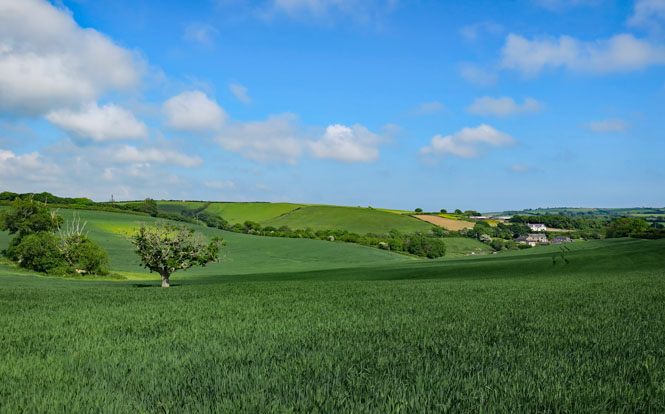 Plymouth for the night.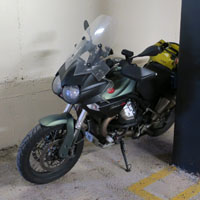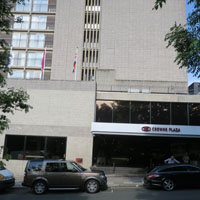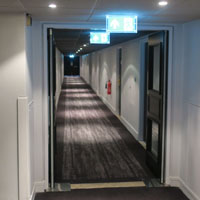 The view of the oldest part of Plymouth as seen from my hotel window. During the war, the city was extensively bombed and the destruction was widespread. However, the old part of town was largely spared as it had long ceased to have any strategic importance, and the old harbour--you can see a bit of it--had been replaced by a new one (which was targeted for bombing by the German Luftwaffe).
Plymouth, Devon.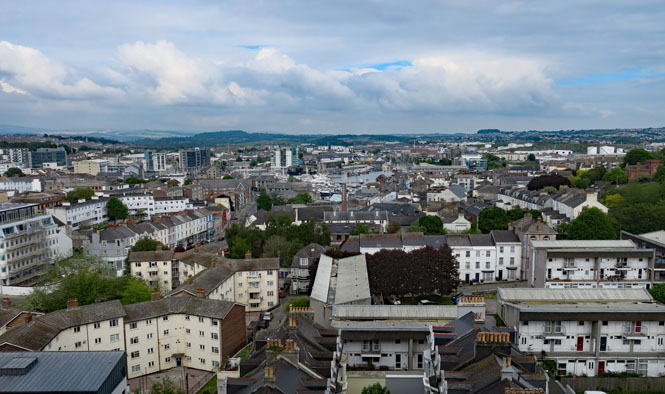 War memorial and a statue of Sir Francis Drake.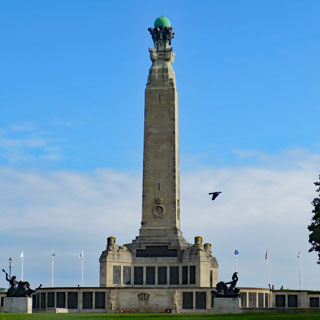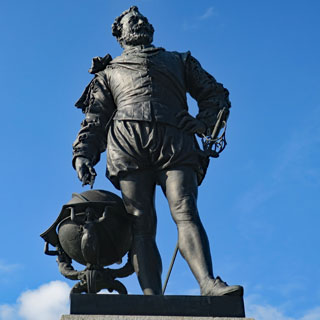 The Plymouth Hoe. It's a warm and very pleasant evening. The town is out and about.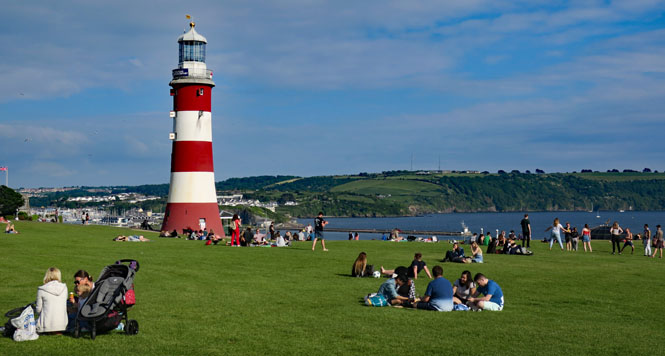 Another goal for this trip (seemingly small, but it was my primary reason for coming to Plymouth in the first place) was to have a cream tea at the Royal theatre as recommended to me by my Aunt Ruth. I'm afraid the theatre let their side down, but I'm saying that this is close enough.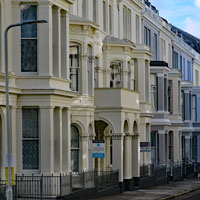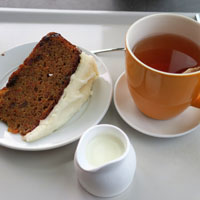 Usually, in most towns the church will be the best building that they have ever built, and the best that they are capable of building. That's why I almost always visit them. But, if there's a Guild Hall in a city, there's a good chance that it will give any old church some close competition. The workers won't stint on their own.